Allow us to introduce you to our dedicated and highly professional preschool staff…
Ana Flores
Preschool Director
This fascinating and rewarding adventure of becoming a preschool teacher started in 2002 when I had to do an observation for one of my human development classes. I have been working in the early childhood field for about ten years.
For the last eight years, I have been part of the family at Good Shepherd Preschool. My goal as a teacher is to provide a fun, safe, healthy, and nature friendly environment that fosters opportunities for children to explore and exhibit independence plus provide a strong foundation that will help them thrive once they transfer to kindergarten.
I feel so humble, proud, and happy for having the opportunity of working at Good Shepherd. I truly enjoy working with a team of respectful, trustworthy, enthusiastic, and hardworking teachers. I also enjoy our environment so full of nature—our huge trees and backyard, edible garden, pets…etc
Miss Roxanne
Preschool Teacher
As the teacher of the 4-5 year olds, it is my responsibility that the children in my class are more than ready for the Kindergarten experience. In my nine years of working in preschool education I would say I love where I work. My co-workers are such a blessing to work with.
I like our big yards, the garden, and how we are able to use our outdoor environment as part of the curriculum. I am also a teacher in the School Age Program. My goals for this age group are to make sure their homework is done and that they are having fun after school.
I like our program because we make interesting things on cooking days, and allow the children to have some independence to create a play environment that meets their social needs. I enjoy seeing them learn to do things independently, and also work together in teams.
Miss Angela
Preschool Teacher
I have been working at Good Shepherd for two years, and in preschool education for 10 years. I most enjoy watching the children grow and become successful individuals. Throughout their time at Good Shepherd my goal is to give them a fun and educating experience while at school.
I enjoy working at Good Shepherd because it has so much to offer, especially our beautiful garden and natural environment. I am so happy with the team of teachers who are here and how we all work together and support each other.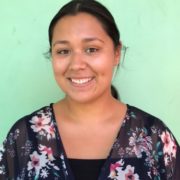 Ruth Ocampo
Yellow Room Teacher
Thuy Tong
Red Room Teacher